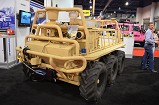 > Reader's Photo


OX5 by Lockheed Martin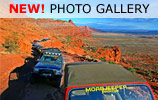 • ADVERTISE WITH US
• WHO IS MOAB JEEPER?

Home > Jeep Articles > General - Editorials > Backcountry ?Wheeling...The Ultralight Way


General Articles - Editorials
---
Backcountry ?Wheeling...The Ultralight Way

Article written by the J Staff



Date Added: 11/25/2007



A weekend off-roading/camping trip doesn?t have to be an exercise in seeing how much you can cram into your Jeep

Everything you need for a weekend of wilderness camping? You bet. With a little practice, you?ll be surprised how little gear and supplies you need to sustain you for a two- or three-day off-road excursion.
To our way of thinking, enjoyment of remote off-roading and camping can be exponentially measured against how much stuff you have to take with you. In other words, the more we cram into our Jeeps and the more we have to do in terms of camp setup, maintenance and tear-down, the more the needle drops on the fun factor. We?re talking mostly about piloting CJs, YJs and TJs into the hinterlands, but even the FSJ, XJ and ZJ owners can feel the aggravation of ?too much.? Nature, they say, abhors a vacuum, and if we have room in our rigs, we tend to fill it...with something. Problem is, that ?something? demands attention, and it takes up valuable space.

We have found, based on many previous backpacking excursions and extended wilderness hunting trips that you never need as much stuff as you think you do. A wise traveler once recommended that you lay out everything you think you need, set aside two-thirds of it, then take the remaining third with you. And there?s a lot of truth to that.



The Wet Stuff
An essential which certainly takes up a lot of space in a Jeep is liquids. Most folks pack water for drinking and cooking, as well as an ice-filled cooler of canned drinks, juice and milk.

Small, high-end mechanical filtration systems like the Guide model from PUR can provide you with all the fresh and safe water you need for several days. Find a clear source of ground water and you?re set.

First, the water. If you?re travelling in an area where ground water is available, leave the big jugs at home and get your H2O on the go. Water filters can be purchased at the better sporting goods stores and Internet retailers which eliminate practically all of the harmful nasties floating in surface water like creeks, lakes and ponds. We?ve lived off of creek water for up to a week using a small PUR hand-pump filtration system and lived to tell about it. As for those iodine and bleach treatments, forget it. They work, but the taste isn?t worth it. Also remember that boiling water will also do the trick, but it?s quite time-consuming.



We first came across this nifty product while on a remote caribou hunt in Newfoundland, where packing in perishables is a tough business when your only way in or out of camp is by bush plane. It?s the perfect solution for wilderness Jeepers who?ve gotta have their milk.

Finally, if you have to have your morning juice, take along some Tang. It?s a powdered mix which travels light. For milk, you can find quart-size UHT shelf-stable milk in sealed Aseptic packages at stores like Walmart. It is ultra-pasteurized and sealed air-tight so it needs no refrigeration, and can remain un-refrigerated for months. Toss it in a cold water creek before you go to bed and in the morning you?ll have cold milk without the need for an ice cooler.



Food/Cooking
Here?s another area that can fill up a Jeep in short order. As many of us know, camping is often an excuse to indulge in uncommon vittles, sometimes to great excess, just because. Probably has something to do with latent survival tendencies and that communal caveman campfire thing. Whatever the case, standard food takes up space (particularly those items which require cold storage), and usually demands cookware support (another big space robber).

Folks in the way-back pioneer days weren?t always toting coolers, pots, pans and stoves for every scouting or hunting trip they were on, and you don?t have to, either. Neither do you have to live off of jerky, nuts and hardtack. Our number one favorite go-light dinner is the military surplus MRE (Meal Ready To Eat).

MREs are the field food of our armed forces, and for good reason. They?re easy to pack, are packed with all the nutrition and carbs you need for high-output activities, are warmed with a self-contained chemical heater, and require zero cooking utensils. They taste great, too.

MREs come in a sealed plastic pouch, and contain a full high-carb, high-protein meal, along with a water-activated heater so you can enjoy a smoking-hot entrée?all without the fuss of cooking utensils or cold storage. You can purchase MREs from military surplus stores, some sporting goods stores, and several Internet retailers. Round out your meal selection with bags of cereal, granola bars or instant oatmeal for breakfast and an assortment of canned, dehydrated or vacuum-packaged food items for lunch.

By going this route for your meals, you can save a bunch of space by leaving those cooking sets, utensils and stoves at home. For hot water, small single-burner backpacking stoves will take care of your needs.



Shelter/Sleeping Gear
We?ve slept in Jeeps before, and with the possible exception of the old Wagoneers, there?s nothing fun about it. That doesn?t mean you need a 10x10 cabin tent to be comfortable. Modern single and two-person backpacking tents are light and compact to the extreme. They cost a pretty penny, but are worth the money in the long run if you do a lot of lightweight camping. Of course, there are also plenty of low-cost tents out there which will also serve the purpose. If you really want to get tough about this, a couple of small tarps (one for a tent/lean-to and one for a ground cloth) and some nylon cord will do the trick.

Believe it or not, some of the warmest and most comfortable (and often expensive) sleeping bags are actually the least bulky and most portable. They usually come in stuff sacks, and when cinched tight with compression straps, take up hardly any room in a Jeep.

Regarding the other nighttime component?sleeping bags?you first need a bag that?s rated for the temperatures you expect to encounter. After that, get the lightest and best bag you can afford. As with the ultralight backpacking tents, these technical bags don?t come cheap, but are worth the money. They also pack extremely compact, and are further minimized when stowed in a stuff sack that features compression straps.



Clothing
OK, how much do you really need? If it?s just you and the bears out there, well, and we doubt the bears give a flip what you smell like...


Repair Essentials
If you?ve managed to get your camping gear down to the minimum, you?ve left yourself plenty of room for what is your most important cargo next to food and water?repair basics. What we?re talking about here are tools and supplies to keep your Jeep rolling. The level of repair supplies needed depends greatly on the condition of your rig going into the backcountry, trail difficulty, and your Jeep?s ability to handle the same.

You can?t take your garage with you, but a well-rounded assembly of critical hand tools and supplies need not take a lot of storage space even in short wheelbase Jeeps like the CJs and Wranglers.

At a minimum your tools and supplies box should contain a brace of the necessary boxed-end wrenches, socket set, screwdrivers, and other common hand tools. On the supply side, we recommend electrical wiring in the gauges common to your Jeep, extra fuses, electrical tape, replacement engine belts, an assortment of hoses and clamps, radiator Stop-Leak, tire sealant, coolant and a representative sample of all the lubricants you Jeep needs to keep going. Basic recovery tools not to overlook include a folding shovel, tow strap and, if you don?t have a winch, a come-a-long.


Final Thoughts

Going ultralight isn?t something you?re going to get right the first time you try it. It usually takes several trips before you learn to distinguish between what you want to take, what you think you need to take, and the absolute least you can get away with. The good news is, the learning process is guaranteed to be a blast.

Our Thank You's!

Thank you to the J Staff for this excellant article.
---